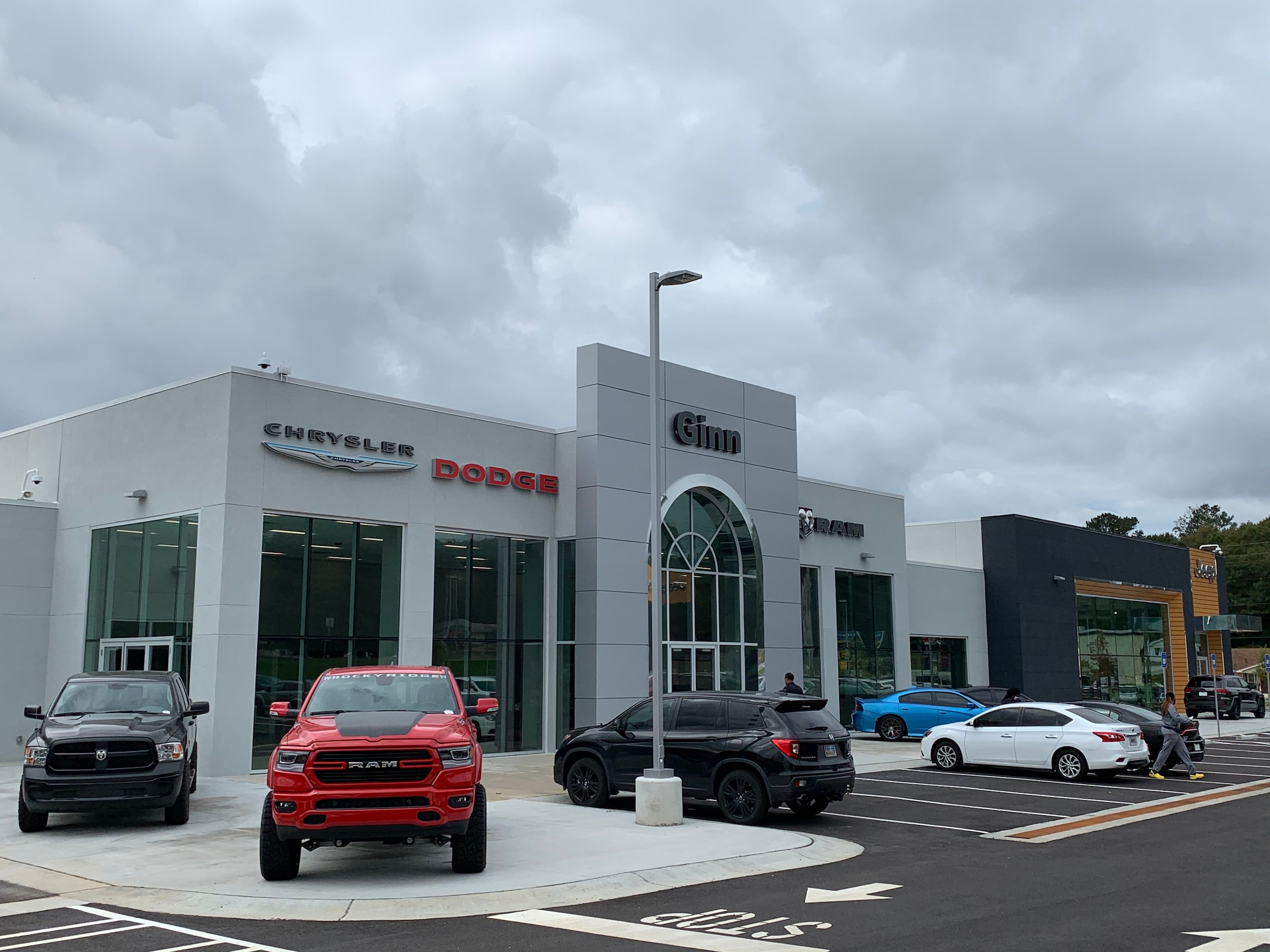 Ginn Chrysler Jeep Dodge RAM is your local full-service automotive dealer in Covington, Georgia. We offer all of the services you're looking for to meet all of your automotive needs. Whether you're looking to purchase your next vehicle, finance your purchase or keep your vehicle running smooth for years to come, we want to be there during for every step of your journey.
Covington Chrysler, Jeep, Dodge, and RAM Dealer
If you're looking to purchase a new, used or certified vehicle, you've come to the right place. Ginn Chrysler Jeep Dodge RAM offers a huge inventory of vehicles for you to choose from including those in our name.
   
Chrysler vehicles offer unparalleled luxury and are perfect for those looking to splurge on their next vehicle purchase.
   
Jeep vehicles offer a uniquely sporty design and performance that is much-loved in the automotive community.
   
Dodge vehicles offer sporty performance and a muscle car design quality that makes the brand beloved for auto buyers.
   
RAM vehicles offer the incredible durability and high performance mechanics needed to get the job done on the work site.

We offer all of these vehicles in our convenient location at 2251 Access Rd in Covington, Georgia. Our team of friendly, helpful and knowledgeable sales professionals will be happy to assist you in your car shopping journey. Whether you're ready with a specific make and model or you've just got a rough list of wants and needs, we'll help you find the vehicle that is perfect for you.
Automotive Financing When You Need It
Shopping for a new, used or certified pre-owned vehicle can be a super exciting adventure or a super stressful event-but at Ginn Chrysler Jeep Dodge RAM, we will do our very best to ensure that it's the former over the latter. Our team of automotive financing experts are here to assist you in any way we can through the entire process. We'll help you in every step, from selecting a vehicle that meets your long- and short-term financial goals to getting you a monthly payment that fits within those constraints. We'll leverage our industry connections to get you the best financing terms available so that you can leave knowing you got the best deal possible.
Automotive Service in Covington, Georgia
As a full-service automotive dealer, we also offer a myriad of services to keep your vehicle running smooth for years to come. Whether you purchased your vehicle from our world class team or you've decided to choose us to fulfill your automotive service needs matters little to us-we just want to ensure you get the highest quality service possible. Our team is highly trained and motivated to perform the best service on your vehicle every time you're here. From regular oil changes to major service intervals and everything in between, we'll be here every step of the way.
Contact Our Team Today
The team at Ginn Chrysler Jeep Dodge RAM is looking forward to helping you on your automotive journey. Get started now by contacting our sales team by filling out our "Contact Us" form or calling us at 877-547-1096. We look forward to meeting you!